Sanitization of Boutiques and Small Shops
Foreword
The Italian Ministry of Health through Decree # 0017644-22/05/2020-DGPRE-MDS-P has issued some procedures/guide lines on how to keep commercial areas, including boutiques and small shops, clean and sanitized for the public health after the reopening due to the lockdown for Covid-19.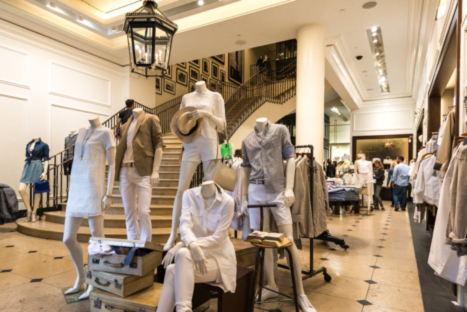 General
We are witnessing, an ongoing relaxing of the strict measures adopted till now to minimize the spread of the SARS-CoV-2 (Covid-19).
Along with it commercial activities starts to resume their daily routine even if this has to be done always with an eye to the public health.
Before we proceed further, we would like to emphasize that, personal hygiene and in particular hand washing, social distancing and the use of masks are the cornerstone of correct prevention, and that only the conscious and active participation of each individual user and worker, with a full sense of responsibility, may be decisive for the specific business context, for the protection of one's own health and for that of the community.
The reopening of commercial activities, with the presence of both workers, customers and suppliers in the workplace, regular cleaning, periodically followed by suitable procedures for sanitizing surfaces and internal environments, plays a crucial role in the prevention and containment of the spread of the virus.
The transmission of coronavirus infections, including SARS-CoV-2, occurs mainly through droplets, droplets of diameter ≥ 5 µm that originate from the acts of breathing, speaking, coughing and sneezing.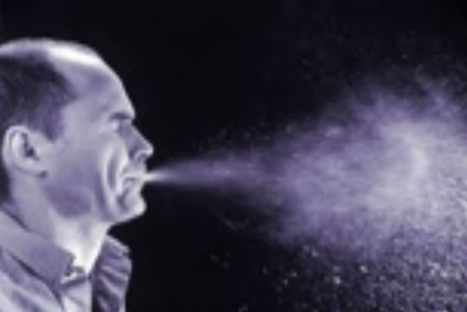 Due to their size, droplets travel in the air for short distances, generally less than one meter but much longer (up to 8 meters) if you cough or sneeze, and can directly reach susceptible subjects in the immediate vicinity, as well as settling on objects or surfaces which therefore become a source of virus spread.
In fact, in this case, the hands that have come into contact with such contaminated objects can constitute a vector of transmission by indirect contact when they touch the mucous membranes of the mouth, nose and eyes.
The most recent experimental (1) data relating to the persistence of the SARS-CoV-2 virus are shown in the following table: however it must be considered that the data reported in it, being generated by experimental conditions, must be interpreted with caution, also taking into account the fact that the presence viral RNA does not necessarily indicate that the virus is viable and potentially infectious
| | | |
| --- | --- | --- |
|             Surfaces | Viral infectious particles detected up to | Viral infectious particles not detected later |
| Printing and Tissue Paper |            30 minutes |              3 hours |
| Fabrics |              1 day |              2 days |
| Wood |              1 day |              2 days |
| Bills |              2 days |              4 days |
| Glass |              2 days |              4 days |
| Plastic |              4 days |              7 days |
| Stainless Steel |              4 days |              7 days |
| Surgical masks - inner layer |              4 days |              7 days |
| Surgical masks - outer layer |              7 days |              not determined |
Context assessment (2)
For each commercial activity, context assessment is important in order to implement suitable, targeted and effective sanitization measures. First of all evaluate the type of workplace, to determine what types of surfaces and materials are present in the environment, what use is made of it, how often spaces are frequented and surfaces that are touched. Once this step has been achieved then procedure on how and what to use should be implemented.
Indoor sanitization (2)
It is suggested that if the workplace, or the company has not been occupied for at least 7-10 days, normal routine cleaning will only be required to reopen the area, as the virus causing COVID-19 has not proven able to survive on surfaces longer than this time (see table above).
Accordingly
Most surfaces and objects only need regular ordinary cleaning.
Light switches and door handles or other frequently touched surfaces and objects must be cleaned and disinfected to further reduce the risk of the presence of germs on these surfaces and objects. (Door handles, light switches, workstations, telephones, keyboards and mice, toilets, taps and sinks, petrol pump handles, touch screens.)
Each company or facility will have different surfaces and objects that are often touched by more people.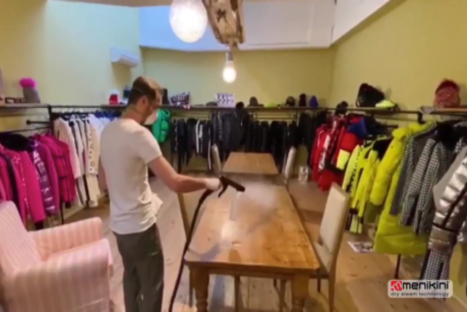 Clothing and textile materials (2)
Clothing and textile materials needs additional disinfection, therefore it is advisable to schedule daily treatments or on a frequent and regular intervals.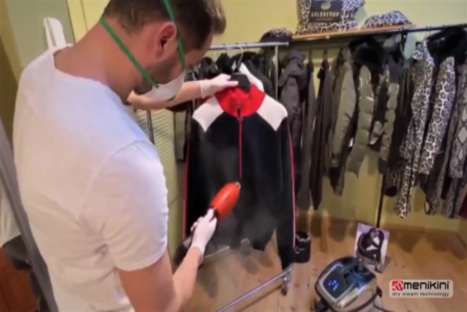 Compliance with some good practices foreseen for the behavior of people (use of gloves and dispensers with hydro alcoholic gel at the entrance of the test booths, preventing contact with the exposed goods without gloves) would enhance the effects of periodic sanitization of the premises; together they would limit the spread of the virus even if the possibility of wearing the garment for trial was offered in clothing stores.
The dressing rooms must be sanitized (cleaning and disinfection of exposed surfaces) according to the frequency of their use.
Dry steam seems to be the recommended method for sanitizing clothes.
The use of chemicals is discouraged for reasons related to the stability of the colors, the characteristics of the fibers and the potential eco-toxicological impact.
Ionizing radiation is difficult to export in terms of commercial activity.
Washing clothes, either in water with normal detergents or dry cleaning in professional laundries, is certainly a good practice capable of responding to sanitizing needs, but represents an extraordinary maintenance process and not really practical.
Conclusions
Above is what the Italian Ministry of Health are recommending to use or not to use when it goes to textile and clothing disinfection.
We have highlighted the use of Dry Steam as one of the method recommended.
Dry Steam is really the best and fast method in order to achieve total disinfection and safety for all your clients and employees alike.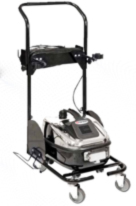 The machine we offer, MK2000 (other models are also available) it's a combination of power and portability; due to its small size it can be easily moved from one place to another.
The MK2000 has a boiler that can reach 180ᴼ Centigrade and works at 8bars.
It produces a steam that annihilates all microorganisms, fungi, molds and pests on contact yet it is very safe to use.
All this power is concentrate in a very small machine that work continuously so you do not need to stop and wait for the machine to cool down, simply refill the tank with water and you are good to go.
Yes, you read it correctly, you need only "Water" a small quantity of water.
No detergent and no additional disinfectant are needed.
But, if you want extra safety, MK2000 can be fitted with its companion, SANIX.
It allows the use of disinfectant while working with the Dry Steam.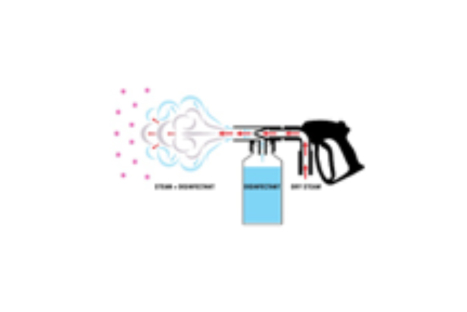 Additionally, the Steam has only 5% of droplets which means that cloths and fabrics do not get wet while they are being treated with dry steam, therefore can be immediately used by other client.
Please do contact us should you wish to have more details or to book a demo.
Follow us on https://www.facebook.com/MathiaTrading
@  info@mathiatrading.com – mathiatgcs@yahoo.com
Telephones: 046 418 4751 – 0917 507 9888
___________   
References:
1 - Chin A.W.  H., et al.  Stability of SARS-CoV-2 in different environmental conditions The Lancet Microbe
2 - Italian Ministry of Health Decree # 0017644-22/05/2020-DGPRE-MDS-P. Full Ministerial Decree, in Italian language, is available here: http://www.trovanorme.salute.gov.it/norme/renderNormsanPdf?anno=2020&codLeg=74133&parte=1%20&serie=null